Temp Workers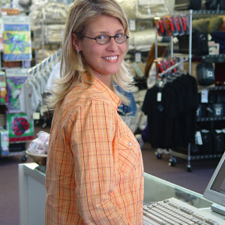 "PhonePlusPlus solved all my problems once and for all. Now I only have to give people one number to reach me, no matter where I am or what I'm doing. Genie* screens my calls and finds me wherever I ask her to with FollowMe. No more having someone guess whether to use my home number, my cell phone, or call some office where I happened to work last week.
"The best thing about it is that with PhonePlusPlus I can change how I'm reached whenever I want. Some businesses are OK with me getting calls on my cell phone, others don't want personal calls at all, and some office buildings are in 'dead zones' where I couldn't get a call if I wanted to.
"That's no problem with PhonePlusPlus. As soon as I get to wherever I'm working that day I ask and then just access my account on line and set my FollowMe service however I want it. I like to do it on the web because I'm a fast typist, but it's just as easy to do over the phone. I can receive calls, have messages taken, conference with my friends at lunchtime about plans for the weekend and get faxed directions to the next day's job all with PhonePlusPlus. It's a great feeling to finally be in control!"
Privacy Policy Terms And Conditions
Copyright © 2007 AllCom. All Rights Reserved.
*The Genie Personal Assistant, Genie Number, Genie Mail and calling card services are provided on the AllCom Universal Office platform.