Student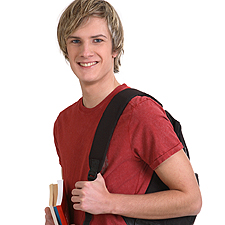 Sam is away from home for the first time, attending college. "It's great to be on my own, without Mom and Dad tapping on my door twice a night, asking if I've done my homework. But I do miss them sometimes, and Becky, my older sister, went off to college two years ago.
I'm always busy, whether I'm in my room studying, working at my job at the library, or out with friends. That's why having PhonePlusPlus is great. My family and friends from home can reach me anytime, anywhere- without having to memorize a bunch of different phone numbers. All they have to do is call my PhonePlusPlus Genie Number* , and it will follow me wherever I am: it rings in my dorm room, on my cell phone, and even at my desk phone in the library (thank God. there's no cell service down there!)
Privacy Policy Terms And Conditions
Copyright © 2007 AllCom. All Rights Reserved.
*The Genie Personal Assistant, Genie Number, Genie Mail and calling card services are provided on the AllCom Universal Office platform.