Residential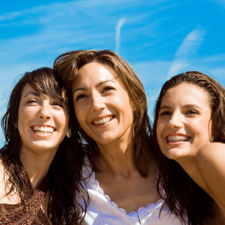 "Nuclear family?" asks Miriam, jokingly. "Sometimes it seems more like we're a nuclear explosion - we're all OVER the place! The kids are off at college on opposite sides of the country, Rich travels constantly, and I'm out showing properties five or six days a week. We all have more of a relationship with our cell phones than each other
"Our PhonePlusPlus Genie* really helps us keep it together, though. With PhonePlusPlus we have so many ways of staying in touch that are easy and cheap - it's been terrific!
"Samuel and Rebecca can call local numbers at school to reach us so there are no long distance charges, what a savings! And Rich uses the International Public Access Network of over 5000 cities and communities worldwide to talk to me as a local call. No more astronomical international phone charges when he's traveling abroad or I can call him on his PhonePlusPlus toll free number.
"I use my PhonePlusPlus Genie Number* for all my real estate contacts. No more putting my office, cell, and home numbers on a business card and getting unwanted, panicked calls from clients at 2AM. Now my personal numbers are kept private and my clients have the professional coverage they deserve.
I believe in 'striking while the iron is hot' and PhonePlusPlus is HOT! Last week I had a home sale pending and PhonePlusPlus let me receive a faxed offer right to my lap top, I left a message for the seller who's return call reached me instantly with FollowMe, and we opened escrow the next day. I cannot tell you how many deals that PhonePlusPlus has saved. Other agents in my office were so impressed they got PhonePlusPlus too and now I make referral fees every month. I may retire".