Farm Workers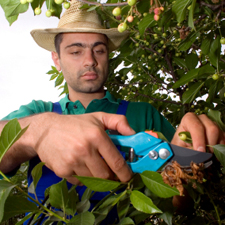 Joe is a temporary farm worker. "Life is good," says Joe, "I pick pumpkins in Riverside, strawberries in Oxnard, grapes in the wine country, and apples in the State of Washington. I am always outside in the fresh air."
PhonePlusPlus also gives Joe a permanent telephone number so his boss, friends and family can reach him, leave a message, page him or send him a fax, often at no charge to them. Joe can use his toll-free number to pick up his messages, return telephone calls and even call his mother in El Paso, Texas. "Now I don't have to pay my friend for calls I make from his phone anymore. He was charging me a lot, too."
PhonePlusPlus is a prepaid service from AllCom that can answer many of Joe's problems easily. PhonePlusPlus gives you:
A regular phone number that's yours no matter WHERE you go!
Voice mail - You'll never miss a message to "Oh, I forgot.
Fax mail - Accepts faxes as well, without Fax machine!
Calling card for domestic AND international calls.
Web based E-Mail Address.
A toll-free number good anywhere in the US & Canada - You can check messages AND make calls from anywhere, without having to worry about the change in your pocket.
Web Based Access - Check your messages AND faxes from any PC with sound capability. A Library or friend's PC is all you need.
An International Public Access Network so you can be reached by your family back home at no charge to them!
PhonePlusPlus can give you everything you could possibly need in one, convenient prepaid package of $9.95 per month. Starting out or starting over - you won't need to worry about having the basics covered. Genie will be there for you all day, every day!